Fresh-faced Sarah was such a delight to shoot with, and this session was meaningful to me in a number of ways. Sarah and I both love photography… and my daughter! Sarah is my daughter's babysitter, and she is one of the most responsible high school seniors I have ever met. (I don't know of any other teenagers who would be there for me at 5:00 in the morning on a weekend with short notice.) I can't even begin to tell you how many times, I've texted her the day before being like " I need you! Are you available?!". She knows my crazy antics, and my daughters, and we are so lucky she has stuck with us ;). So, when Sarah asked me to take her senior pictures, I was honored, and immediately said ' YES!' .
We started our session at the lovely Haddam Meadows. She had fun playing around posing 'sassily'—and professionally— with her camera. We had fun and time flew by. She is starting to look like a college student already.
Speaking of college, Sarah aspires to be Boston-bound. Her top choices as of right now are Boston University, Suffolk University, and Clark University. (I can't wait to see her acceptance letters in the spring.) Right now, she is considering majoring in Psychology so she can continue to work with younger children and teenagers. She has such a bright future!

We quickly darted off to Harvey's Beach during golden hour, and was left with about 15 minutes before the sun set.  I simply adored Sarah's red mermaid-inspired dress (do you see the hint of mermaid scales?!) It could also just be me and the ' I love everything ocean vibe'  and she looked simply stunning sitting in the lifeguard chair with the sun setting behind her. I am also so thankful that this girl was not afraid to get a little wet. I think the image of her splashing in the ocean water perfectly captures what it means to be a high school senior: exciting, unpredictable, hilarious, and maybe even a little messy— but so worth it in the end.
Congratulations, Sarah! We are all so proud of you.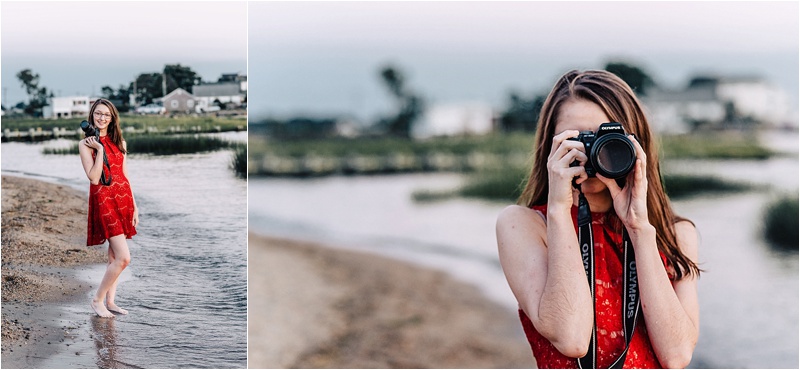 Shauna is a fine art natural light photographer based out of Connecticut. To book a session contact Shauna at:
shauna@shaunadaiphotography.com | 860-268-2588 | www.shaunadaiphotography.com